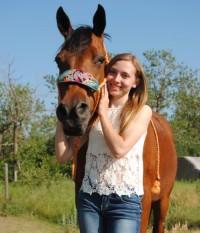 Katelyn is a Registered Veterinary Technician, who studied at Lakeland College in Vermilion, Alberta. She graduated in June 2016 with honours. In March 2017 she joined the Brandon Hills Vet Clinic team!
Katelyn decided to become a part of the Animal Health Field because of her love of animals and passion for doing what is best for them. Ever since Katelyn was a little girl, she has always been ready to try to help and save an animal, or rescue them and find them a new home. That passion still continues to this day and she is happy that she is able to fulfill it here in her position at Brandon Hills Vet Clinic.
Katelyn's goal with every patient and client is to have them leave the clinic satisfied with their visit. Patients should leave the clinic happy and wanting to come back the next time.
Katelyn's family consists of both people and pets. She is a pet parent to a rescue cat named Frosty and an Australian Shepherd named Mia. She states that she is also a slave to her guinea pig, Turbo, who constantly "wheeks" for food. Katelyn also has a trick pony named Hank the Hunk who is the newest edition to her furry family.
"Here's to the next adventure" -Katelyn