Our Hospital
At Brandon Hills veterinary clinic, our motto is "Special friends deserve special care". Our doctors have over 50 years of combined experience in veterinary medicine. We treat companion animals and exotics.
Our hospital is equipped for full surgical, medical, dental, and nutritional care. We are proud to be able to utilize our in-clinic orthopedic, endoscopic, and ultrasound equipment; as well as our in-house diagnostic laboratory, EKG, and X-ray services in caring for our patients. We also use modern anesthetic equipment and monitoring devices. In addition, our patients benefit from our clinic policy which states that "pain control is not an option". In addition, we stock a wide variety of maintenance foods and prescription foods for our patients with special dietary needs. We are also happy to offer clinic tours and home care calls on request. We hope to see you soon!
Brandon Hills Veterinary Clinic is a member of the American Animal Hospital Association.
As an important member of your family, your pet deserves the finest health care available. You can get that quality care from a veterinarian who is a member of the American Animal Hospital Association (AAHA). As an AAHA member, and as part of our commitment to excellence in small animal care, we voluntarily meet or exceed the association's rigorous standards in areas such as surgery, medical records, anesthesia, nursing care, and dentistry. We are the only AAHA accredited hospital in Southwestern Manitoba. To learn more about AAHA, visit their website at www.healthypet.com.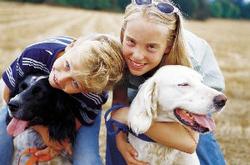 Our Patients:
Dogs
Cats
Pocket Pets
Rabbits
Ferrets
Parrots and Caged Birds
Rodents – Hamsters, Gerbils, Rats
Exotics
Reptiles